---

MODFLOW SURFACT OVERVIEW


New Features in Version 4


Advanced Capabilities


Graphical User Interface (GUI)

---
MODFLOW-SURFACT™ is a powerful 3D finite-difference flow and transport modeling code that offers substantial advancements over public-domain versions of MODFLOW. For example, MODFLOW-SURFACT™ addresses rewetting of drained cell, handling of pumping wells, solute transport problems, numerical dispersion and oscillations, and impacts of transient flow storage effects on transport. What's more, highly efficient, mass-conserving algorithms enable MODFLOW-SURFACT™ Version 4 to deliver accurate solutions faster than ever before.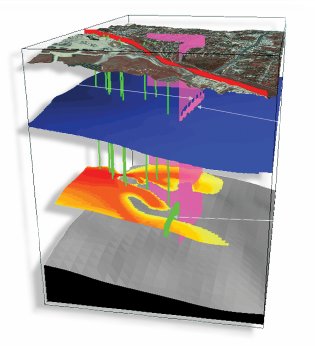 ---
Density-dependent flow and transport
Energy transport (coming soon)
Time-varying material properties
Multi-core solver (coming soon)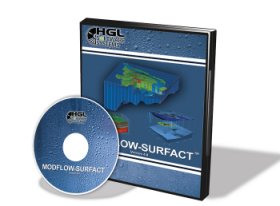 ---
Robust PCG5 Module up to 20 times faster than PCG4 solver. (Developed by Dr. Peter Forsyth at the University of Waterloo)
Reaction Module incorporates user-defined reactions of mobile and immobile chemical component species invaluable for modeling biodegradation of industrial contaminants
Curvilinear Grid option for non-rectangular grids in the areal plane
Fully and variably saturated flow and transport modeling
Prescribed-ponding recharge and seepage face conditions, as well as delayed yield
Adaptive time-stepping to promote stability ad convergence for flow and transport simulations
Recharge package overcomes unphysical predictions for unconfined systems
Total Variation Diminishing (TVD) schemes for physically correct solutions with adaptive temporal weighting
Vapor flow for SVE and air sparging simulations
Multiphase, multicomponent contaminant transport modeling with biodegradation
Robust and efficient Newton-Raphson solver for nonlinear problems
Fractured porous media simulation with dual porosity
---
Graphical User Interface (GUI)
MODFLOW-SURFACT™ is compatible with all available MODFLOW-based GUIs, including Groundwater Vistas, Visual MODFLOW, GMS, Tecplot, and Argus ONE. Two-dimensional visualization is utilized in both plan and cross-sectional views for contour plots, pathlines, and velocity vectors. Three-dimensional animation is the most effective way to observe changes in parameters, head and contaminant concentrations in a transient simulation, piezometric surfaces, pathlines, velocity vectors, and isosurfaces of contaminant plumes.