COOPER-JACOB CALCULATOR
---
Cooper and Jacob (1946) developed an approximation for the Theis equation and a data analysis method which does not require type-curve matching. The Cooper-Jacob calculator presented here estimates the drawdown for a given well location over time. This calculator is good for anticipating results from pump tests. The Cooper-Jacob approximation is given by:

There are many programs available for analyzing pump test results, including AquiferTest.
---
---
There are many resources available for more information on the Cooper-Jacob approximation For this newsletter the following textbooks were used:

Batu, V. (1998). Aquifer Hydraulics; A Comprehensive Guide to Hydrogeologic Data Analysis. Published by John Wiley & Sons, Inc. New York, NY.

Schwartz, F.W. and Zhang, H. (2003). Fundamentals of Groundwater. Published by John Wiley & Sons, Inc. New York, NY.
---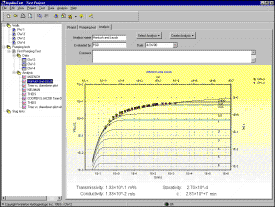 Click here for the best price on AquiferTest
Click here to download a demo of AquiferTest
---
AquiferTest v4.0 is the latest software technology for graphical analysis and reporting of pumping test and slug data. AquiferTest v4.0 represents a major leap forward in pumping test analysis technology. With the integration of derivative analysis capabilities, trends corrections, and data contouring, you will have the tools to analyze and report your pumping test data like never before.
---
Main Features of AquiferTest v4.0
---
Wide selection of analysis methods

AquiferTest is capable of analyzing your pump test data with a variety of methods. These methods includ:

Theis

Theis with Jacob Correction

Hantush-Jacob

Cooper Jacob Steptest

Time Drawdown-Plot

Time Drawdown-Discharge Plot

and many, many more!
---
Project setup features

AquiferTest has a logical GUI design for easy project creation, data input, analysis and reporting.
---
Data analysis features

AquiferTest includes a revolutionary alternative approach to type curve matching for aquifer characterization. In addition, new diagnostic graphs for on-the-fly comparison of field data vs. diagnostic graphs for quick assessment.
---
Data Entry Features

AquiferTest includes an intuitive data entry form for fast and easy data entry and editing. Data entry can also be completed directly from Excel, text and ASCII files.
---
Graphs and Printing Features

AquiferTest can display colour shading or contour lines of drawdown data on a sitemap, and can display multiple drawdown or type curves simultaneously, in addition to many other features.
---