Create Customized Functions with the included Add-on Developer's Kit
---
Tecplot is plotting software with extensive 2- and 3-D capabilities for visualizing technical data from analyses, simulations and experiments. Tecplot combines general engineering plotting with high-end 3-D scientific data visualization. And because Tecplot 10 is so easy to use, it is the perfect solution for all of your visualization needs, from simple X-Y plots to elaborate animations of contaminant plumes.
---
Animation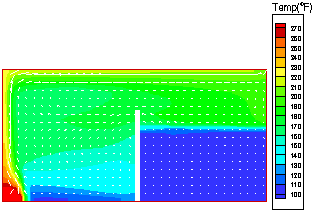 Click for animation
Tecplot's animation tools breathe life into your data! Animation enables you to add the dimension of time and space to your plots and helps you create presentations that get noticed. With just a few mouse clicks you can animate your data by contour levels, time steps, planes, XY mappings, streamtraces and IJK blanking. With a little more attention, you can create eye-catching custom movies of practically anything you can imagine.
3D Surfaces and Volumes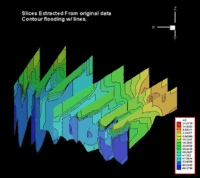 Click to enlarge
Tecplot 10 allows you to explore beneath the surface. Dig deep into 3-D data by slicing along X, Y, or Z planes or choose an arbitrary cutting plane. Take advantage of Tecplot's volume blanking features to visualize an excavation or create and analyze subzones. Tecplot's intuitive interface makes it a breeze to pan, zoom and rotate 3-D objects. Light source color and shading options bring an extra dimension of realism to your presentations.
Streamlines and Vectors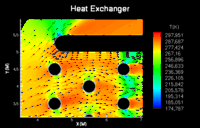 Click to enlarge
Tecplot 10 accurately represents vector information common to fluid flow and heat transfer analyses. You can display vectors and/or arrowheads in 2D or 3D, size vectors by magnitude or fixed length, and specify vector thickness, color, pattern and head type. Tecplot can create vectors and streamlines on 2D or 3D surfaces. Vector data can also be presented as 3D stream rods and stream ribbons.
Mesh Plots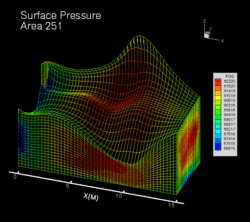 Click to enlarge
Tecplot 10 handles both structured and unstructured grids in two and three dimensions. Tecplot supports curvilinear grids, maintaining the integrity of your data. You are not forced to interpolate your data to a rectangular mesh. Mesh lines can be colored by a variable and you can specify mesh line thickness, color, and pattern.
Finite Element Data
You can utilize a variety of finite element types in both 2D and 3D to accurately represent real world structures in your analyses. Finite element meshes can be combined with structured meshes to ensure the precise representation of your data. Tecplot can even triangulate random data points to create a 2D finite element mesh.
Contour Plots
It only takes a few mouse clicks to create vibrant contour plots with Tecplot 10. You can present your data with contour lines, flooded contour levels, lines and flood or uniform color in each cell based on average cell values. You can specify line type and thickness. There are several predefined contour color schemes or you can create your own.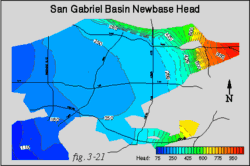 Click to enlarge
You can also control the threshold (min and max) for your contour variable to get the most accurate image possible. When it's time to create a presentation quality plot, you can overlay a DXF map, point and click to add/remove contour levels or interactively position labels right where you need them. Tecplot 10 can even animate your contour plot over time or by contour level.
Data extraction, Creation and Transformation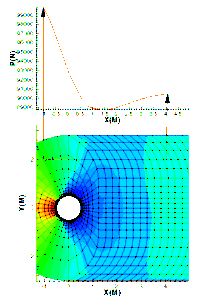 Click to enlarge
With Tecplot 10 you can easily extract points from a polyline, probe for details at a specific point, smooth data to reduce noise, shift cell-centered data, transform polar coordinates to rectangular, shift from 2D to 3D views, create and delete new zones and variables and much, much more. There are several interpolation routines available including kriging, inverse-distance and linear interpolation. The data alter function enables you to manipulate data as a function of mathematical equations. You can even create entire data sets from scratch within Tecplot.
Scatter Plots
Tecplot offers several scatter symbol shapes. Scatter symbol size and/or color can be a function of a field variable. Symbols may be hollow, filled or outlined. With just a few mouse clicks Tecplot can convert a scatter plot of random data into a contour plot.
XY Plots
Tecplot isn't just for high-end 3D data visualization! Hundreds of XY plotting options make Tecplot the most comprehensive data visualization tool available. There is virtually no limit to the number of lines that you can display in one XY plot.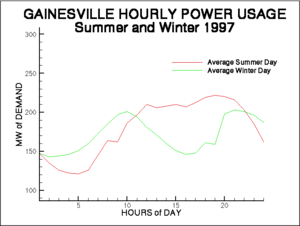 Click to enlarge
Tecplot supports interactive data adjustment, multiple axes, logarithmic scales, custom labels, error bars, and over a hundred different XY symbol types. Tecplot allows you to specify the exact XY attributes that you need including line thickness, color and pattern, axis range, and label and tick mark attributes.
Batch Processing/Macro Language
There are several ways within Tecplot to automate repetitive tasks. Plot templates can be saved and re-used with new data sets. Tecplot's interactive macro recorder allows you to record commands as you execute them or you can write macros from scratch. Tecplot can run in batch mode for hands-free generation of multiple plots.
Presentation Quality Output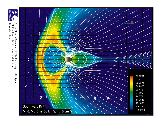 Click to enlarge
Share your vision with the world. Tecplot gives you total control of the plot layout and design so you can effectively communicate results. Use the mouse, keyboard or both to add, delete, move or resize text and geometries.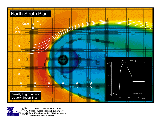 Click to enlarge
You can point and click to create new plotting windows, called frames. Tecplot can display up to 128 different frames in one layout either side by side or overlaid with invisible backgrounds. Drag and drop to position and resize frames exactly where you need them.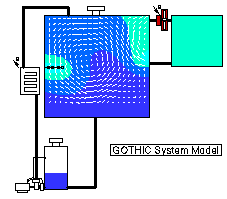 Click for animation
When it's time to present your data, Tecplot makes it easy. Copy and paste to other applications, or select from a variety of output formats. Tecplot offers the perfect solution whether you plan to share your information via public presentation, hard-copy publication or the World Wide Web.
---
Tecplot 10 runs on Windows 9x/Me/NT/2000/XP PCs, Linux PCs, UNIX workstations including those from HP, IBM, SGI, and SUN, and Mac OS X. Tecplot data files, macro files, style files are transferable between all different computers and platforms.
100 MB minimum free hard disk space
64 MB minimum of RAM (256 recommended)