---

Level, Temperature, Conductivity


Technical Specifications


Features


User-Friendly Operation


Applications

---
Level, Temperature, Conductivity
The LTC Levelogger Junior logs conductivity, as well as water level and temperature. Like the LTC Levelogger Junior, it is easy to transport, program, deploy and retrieve data. It combines a datalogger, 5-year battery, pressure transducer, and temperature and conductivity sensors within a small waterproof housing, 7/8" x 7.5" (22 mm x 190 mm).
The conductivity sensor is a 4-electrode platinum sensor, with auto-ranging capabilities. The minimal maintenance, sealed LTC Levelogger Junior is simple to clean and calibrate, even in the field.
Using standard Levelogger Software, it displays conductivity, temperature, and temperature-compensated water level. Memory is non-volatile and stores up to 16,000 sets of readings. Measurements are linear, in any interval between 5 seconds and 99 hours. See the Model 3001 Gold Data Sheet for more information on the Levelogger Series of dataloggers, accessories and software, all of which are available on GroundwaterSoftware.com
---
Level Sensor
Piezoresistive Silicon in 316L SS
Ranges: F30/M10, F100/M30
Accuracy (typical): 0.1% FS
Resolution: 0.08" (0.2 cm), 0.24" (0.6 cm)
Normalization: Automatic Temp Compensation
Temperature Sensor
Accuracy: ± 0.1°C
Resolution: 0.1°C
Temp Compensation Range: -10°C to 40°C
Conductivity Sensor
4-Electrode Platinum
Full Range: 0 - 80,000 ìS/cm
Calibrated Range: 500 ìS/cm - 50,000 ìS/cm
Accuracy: 2% of reading or 20 ìS/cm
Resolution: 1 ìS
Temp Compensation Range: 0°C to 40°C
Normalization: Specific Conductance @ 25°C
General
Battery Life: 5 Years (5 minute sampling rate)
Clock Accuracy: ± 1 minute/year from 0 to 40°C
Operating Temperature: - 20°C to 80°C
Memory: Non-volatile EEPROM, FRAM back-up
Maximum # Readings: 16,000 sets of readings
Communication: Optical Infra-Red to USB or RS232
Size: 7/8" x 7.5" (22 mm x 190 mm)
Wetted Materials: Platinum, Stainless Steel, Delrin®, Viton®, Buna-N
Sampling Mode: Linear, (5 sec to 99 hrs) SDI-12, Real Time View
Barometric Compensation: Software Wizard and Barologger Gold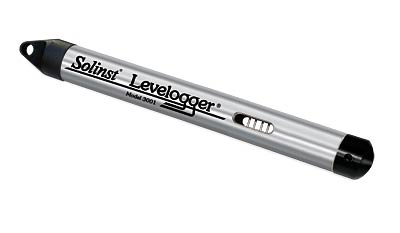 ---
Low Cost
Three measurements in one probe
Compatible with Levelogger Software and accessories
Single or multi-point calibration
Compact, low maintenance, waterproof design
Faraday Cage protection against power surges
Real-time viewing and data export to other programs
Compatible with STS Gold Telemetry and SDI-12
---
Barometric Compensation and Calibration Wizards guide you through the calibration process and compensation, to provide corrected data. Levelogger Software allows you to easily program your preferences, download data, and display data in a graph or table format or export to other programs. Temperature compensation is automatic, but temperature variations can also be displayed.
The Real-Time View option allows immediate viewing of live conductivity, water level and temperature readings. Leveloggers are easy to deploy; installation can be with direct read cables or wireline/rope suspension, avoiding the use of vented cables. (See Model 3001 Gold Data Sheet).
The LTC Levelogger Junior is SDI-12 compatible, can communicate with a Leveloader Gold data transfer device, and is able to integrate into a Solinst STS Gold Telemetry System.
---
Salt water intrusion and soil salination monitoring
Plume remediation monitoring and studies
Leachate monitoring at landfills, mine tailings, waste disposal storage sites, and more
Agricultural and stormwater runoff monitoring
Tracer tests