The gas drive pump offers excellent performance and reliability; no bladder replacement and higher pumping rates than with the Bladder Pump (Model 407) (Available from GroundwaterSoftware.com); a selection of sizes and materials; variable flow rates; and is field serviceable. It also offers compatibility with the Solinst 464 Electronic Control Pump (available from GroundwaterSoftware.com)
The DVD is suitable for low flow or regular flow groundwater sampling, and can operate to depths of 2000' (600 m) and more.
---
---
Easy Decontamination:
Everything easily accessible; replaceable and with interchangeable parts. All components can be cleaned with mild detergent or non-phosphate soap to remove VOCs.


Portable Models:
can be made for any size or depth of application. No tools required for field decontamination.

cart or reel mounted.

compatible with Solinst 464 Electronic Pump Control (available from GroundwaterSoftware.com)

Converts to a Bladder Pump:
High Flow Rates:
When large purge volumes are required, Solinst DVP can deliver high flow rates. Flow rates vary with depth of the gas drive pump below surface, depth below water level, size of drive and sample tubing, drive and vent cycle times, gas pressure applied, aquifer recharge, and size of the gas drive pump body. The DVP compares favourably with published data for similar sized gas drive pumps under similar conditions, i.e.: 1.66" x 2ft. 42 mm x 610 mm) DVP at 100 psi, with 1/2" OD drive and sample lines, at 150 ft. (50 m) below water level, gives 3.3 l/min.
---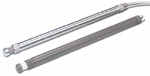 High Quality Groundwater Sampling:
Gives excellent VOC results, comparable with bladder pump results. (See paper on VOC Retention by Baerg et al, presented at 1992 National Groundwater Sampling Symposium)

Also compatible with Solinst 464 Electronic Pump Control (available from GroundwaterSoftware.com)
Deep Applications:
Standard systems are suitable to depths of 500 ft. (150m). Specialized controllers, tubing, etc. can be supplied for depths up to 2000 ft. (600m). Also compatible with the Solinst 464 Electronic Pump Control (available from GroundwaterSoftware.com).
Non-vertical Applications:
Operates effectively at almost any angle and can be placed under landfills, tailings, storage tanks or plumes of VOCs.
Miniature Model:
Has a diameter of 5/8" (16 mm) to allow cost-effective groundwater sampling of VOCs from wells as small as 3/4" diameter (19 mm). Also compatible with Solinst 464 Electronic Pump Control.
Low Cost PVC:
Makes dedication more feasible on projects where budgets are tight. The lower capital cost allows several PVC pumps to be dedicated for the cost of one portable stainless steel pump. Further savings are subsequently gained through shorter field operating times. PVC pumps are also compatible with the Solinst 464 Electronic Pump Control.
A weight may be used to overcome buoyancy. PVC pumps are also useful for applications where stainless steel is unsuitable such as:
Leachate/Product Pumping:
Stainless steel, gas drive pumps are well suited for pumping contaminant/VOC liquids. High solids content, strong solvents and corrosive chemicals are easily and economically pumped. Survives dry pumping, dirty air and sand.
---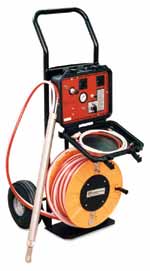 For less frequent groundwater sampling, reel and/or cart mounted portable systems allow access to multiple monitoring wells, even in remote locations. The rugged cart mounted system uses large pneumatic tires for easy transport over rough terrain. Reel mounted portable units have a convenient carrying handle where tubing length permits.

The Solinst Double Valve Pump utilizes most of the same parts as the Bladder Pump. The standard size is 1.66" dia. by 2 ft. (42 mm x 610 mm). Conversion from one to the other is efficient and easy (approx. 2 min.). It allows faster purging as a Double Valve Pump and lower flow, high quality sampling as a Bladder Pump when desired.
---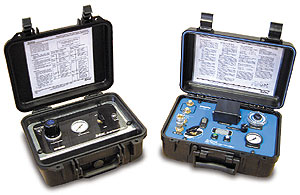 For long term monitoring it is best to dedicate the pumps to reduce sampling time and avoid cross-contamination. Well Caps are designed for ease of use. The vented PVC cap has tubing and cable connectors on the underside; easy-to-attach drive line connector & discharge adaptor; and access holes as required. The cap slips easily onto 2" wells and may be sealed in place with an o-ring. They are available with or without a protective cover for the cap. Adaptors are available to fit 4" or other sizes of well.

Pump Controller:
The electronic controller uses 8 AA batteries that provide up to 30 hours of continuous use. It is fully automatic with preset sample modes to give a variety of useful drive and vent cycles. These can be further adjusted manually to optimize the flow. It allows faster purge rates and precise low flow to ensure a representative sample at100 ml/min or less when sampling for VOCs. The standard #466 gives up to160 psi and the 466HP offers 250 psi.


The Manual Controller is a lower cost, fully pneumatic controller, with no batteries. The convenient boxes are rugged, dependable and suitable for all environments. Quick-connect fittings allow instant attachment to dedicated well caps or portable reel units and to the in-line dryer and compressor.
---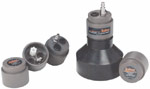 Air Compressors:
An oil-less compressor is skid or cart mounted, providing up to 4.3 cfm and lift capability to 250 ft. (75 m). A portable 12v compressor, designed to operate using a vehicle's battery is also available for shallow sampling and low flow applications.

In-Line Dryer:
Prevents moisture getting to the controller and pump. Used in-line between the pump controller and the air compressor.

Flow-Through Cell System:
For in-line analysis of purge water as it flows, to facilitate low-flow sampling procedures: data sheet #475

Packers:
Minimize purge time by reducing the purge volume required and the cost of water disposal and labor.

Cart or Reel:
For portable systems; compact field transportation.

Disposable Filters:
.45µ, with 700 sq.cm filter area.
Well Caps, Protective Well Cover.
---
Solinst offers Double Valve Pumps in either 316 stainless steel with Viton® o-rings, or in PVC with a Vyon® filter. The two standard pump body sizes are:

5/8" dia. x 1 ft. long (16 mm x 300 mm)

1.66" dia. x 2 ft. long (42 mm x 610 mm)
Other sizes are available on request. The 5/8" dia. model is adapted slightly for use in the Waterloo System.

Tubing can be supplied in a full variety of sizes and materials to suit any application. LDPE is standard, often with Teflon®-lined LDPE for the sample line. Individual
drive and sample lines and dual bonded tubing are available in 1/2", 1/4" or 1/2" bonded with 3/8".
---