---

YSI 900 Chlorine Colorimeter Description


YSI 900 Chlorine Colorimeter Instrument General Specifications


YSI 900 Chlorine Colorimeter Ordering Guide


YSI 900 Chorine Colorimeter Functional Description

---
YSI 900 Chlorine Colorimeter Description
The 900 colorimeter is a rugged, waterproof, single parameter instrument for the measurement of Total chlorine or Free chlorine. Whether you need to measure chlorine in wastewater, chlorine in groundwater, or in pools, this chlorine tester is waterproof with an easy to read display and will provide readings in minutes.
The instrument features a real time clock, automatic data logging as well as the ability to export data to a PC or printer using the 900 Series Data Hub for infrared data transfer. Features for the 900 to quickly and accurately measure Free or Total Chlorine include:
Automatic data storage; 16 data-sets with date and time stamp
Large, backlit LCD display
IP68 waterproof case; easy to hold or set on benchtop; floats
Innovative light shield avoids moving parts or separate pieces that can easily be broken or lost
User-calibration to any government or organizational standard (for example N.I.S.T. or ISO)
Resolution can be improved for specific range requirements
Known interferences can be adjusted for the sample
Auto shutoff extends battery life
2-year warranty
You can rely on the accuracy and reliability of YSI 900. Includes 100 powder packs of each (Free and Total chlorine). Start getting chlorine results today. The 900 includes hard-sided carrying case with compartments for the instrument, accessories, reagents, and more. If you are interested in measuring multiple parameters or COD only, then you may be interested in the YSI pHotoFlex colorimeters or the YSI 910 COD.
---
YSI 900 Chlorine Colorimeter Instrument General Specifications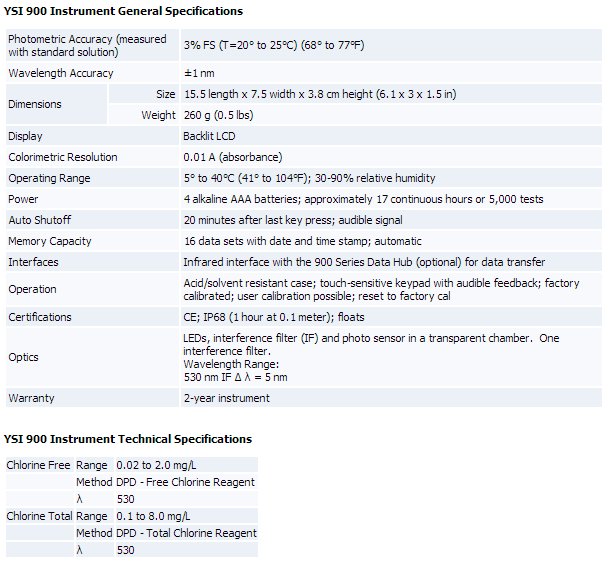 ---
YSI 900 Chlorine Colorimeter Ordering Guide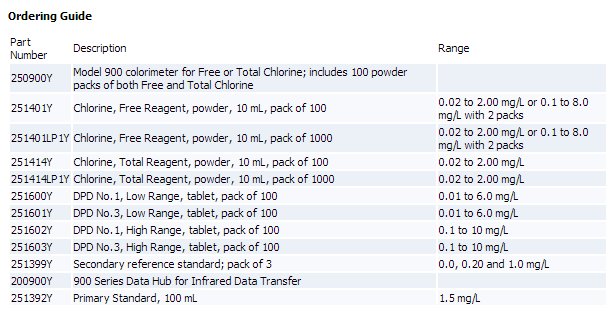 ---
YSI 900 Chorine Colorimeter Functional Description