MIDUSS offers:
No more unwieldy use of separate simulation and design software packages. But you can use you own hydrographs (from other packages) if you wish.
Better designs through interactivity - you immediately see the effects of your design decisions.
A wide variety of hydrologic models are provided to meet with your regional requirements.
Use very large catchment areas and route the flow using advanced routing algorithms built-in.
Design rooftop and parking lot storage, unique stage-discharge ponds, underground recharge trenches, channels with complex cross-sections. Know immediately if the pipe is surcharged.
---
---
Among our peers, MIDUSS is positioned as a drainage design system with a wide range of hydrologic simulation models.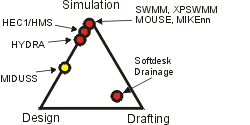 Plus, MIDUSS is completely interactive. From the setup of your hydrology preferences which include a choice of...
5 storm types
(including custom Malaysia storms)
3 infiltration methods
4 overland flow models
unlimited catchments
...to the design of...
pipes
channels
ponds
exfiltration trenches
diversion structures
MIDUSS is with you all the way.

Setup your hydrologic preferences and you're ready to interactively design a drainage network of unlimited size.

MIDUSS always lets you know the hydrograph flow rate and volume to be conveyed by the design element. With this knowledge you interactively design your pipe, channel, pond or trench to properly convey the flow. The downstream hydrograph is displayed before you commit to the design. With this ever present feedback you always know your design has been optimized before moving downstream.
MIDUSS is always watching! It automatically saves all your interaction - there is no "save" button! Relevant step-by-step hydrology and design suggestions are presented at every stage.
When you have finished your design with a routine storm, you can easily test it with a more intense storm. You can interactively fix up only those design elements that are surcharged.

MIDUSS provides incredible engineering productivity and design accuracy because it provides a unique blend of simulation models, design flexibility and user interactivity - all in one system.
MIDUSS has been around since 1984 and offers you the most robust and well balanced interactive system for the simulation and design of stormwater management systems.
---
MIDUSS provides many Hydrology and Design features. Below is a short summary. MIDUSS provides a blend of Simulation and Design features intended to help you be more efficient in producing effective designs.
Hydrology Summary
STORM: You can define a rainfall hyetograph either of the synthetic, design type or a historic storm. Choose from five types of storms.
CATCHMENT: You can define a subcatchment and compute the total overland flow hydrograph for the currently defined storm. Runoff hydrographs from the pervious and impervious areas are computed separately and summed. There are 4 alternative methods for routing the overland flow and 3 different models for estimating infiltration and rainfall losses.
LAG and ROUTE: This feature is a useful for modeling the runoff from very large subcatchments without having to resort to specifying unrealistically long overland flow lengths.
BASE FLOW: This allows you specify a constant value of base flow to be added to the current inflow hydrograph.
Design Summary
PIPES: With this feature you can design a pipe to carry the peak flow. MIDUSS carries out a uniform flow analysis and reports the actual depth and velocity and also the critical depth.
CHANNELS: You can design channels with a general trapezoidal shape defined or your design shape defined by up to 50 pairs of coordinates. Feasible designs are presented. MIDUSS carries out a uniform flow analysis for the given flow, roughness and geometry and reports the depth of flow, the average velocity and the critical depth in the channel.
ROUTING: You can route the Inflow hydrograph through a reach of specified length to obtain the Outflow hydrograph at the downstream end. MIDUSS checks that the time step and reach length are acceptable to ensure stability in the routing process.

DETENTION POND: You can design a detention pond to achieve a desired reduction in the peak flow of a hydrograph. Specify the desired peak outflow and MIDUSS will estimate the maximum storage requirement to achieve this. Storage routing assistance is provided. The outflow control can be designed using multiple orifices and weir controls. The Stage - Storage values can be estimated for different types of storage facility. These may be a multi-stage pond with:
an idealized rectangular plan shape and different side slopes in each stage;
one or more "super-pipes" or oversized storm sewers;
wedge storage formed on graded parking lots; or
a combination of these types of storage.
Rooftop storage can also be modeled to simulate controlled flow from the roof of a commercial development.

EXFILTRATION TRENCH: This feature lets you proportion an exfiltration trench to provide underground storage for flow peak attenuation and also to promote return of runoff to the groundwater.
DIVERSION DEVICE: With this feature the inflow hydrograph can be split into two separate components, the outflow hydrograph and the diverted flow hydrograph. You can specify the diverted fraction or you can define this implicitly by specifying the desired peak outflow and MIDUSS will then work out the necessary fraction to be diverted.
---
System Requirements (recommended)
PIV with 512 MB RAM

1024 x 768 color video

600 MB hard disk space

CD ROM access

Windows 2000/XP/Server2003

Microsoft Networking (Network server and client versions only)
System Requirements (bare minimum)
PIII-400 with 128 MB RAM

1024 x 768 color video

600 MB hard disk space for installation

CD ROM access

Windows 98/NT/Me/2000/XP/Server2003 (Note: Windows 3.1 & 95 are not supported)