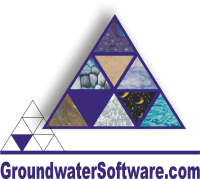 Graphical User Interface
Completely new GUI based on Hi-End 3D graphics libraries .
MDI architecture – multiple projects and multiple views can be opened at the same time in the Hydrus main window.
New organization of geometric objects. All objects are numbered and summarized in an organized system based on the principle of "parents and children". Object indexing enables easy control of object definition.
Navigator window with an object explorer and a tree of display options.
Many new functions improving the user-friendliness, such as drag-and-drop, context sensitive pop-up menus after clicking on objects, and selection and editing of multiple objects in the same dialog window.
Improved interactive tools for graphical input. Users can combine graphical input with numerical input of parameters on the Edit bar. It is also possible to change the view (zoom/scroll/rotate scene) without interrupting the current tool.
Sections, objects similar to AutoCAD layers, can be used to simplify work with very complex models and FE-meshes.
Cross-Sections and Mesh-Lines for charts can be saved with the project data.
Display Options – all colors, line styles, fonts and other parameters of graphical objects can be customized.
Extended print options.
Extended information in the Project Manager (including project preview)
Actual and cumulative fluxes across internal meshlines (lines connecting sequential FE-nodes).
Many additional improvements.
Calculations
Water flow in a dual-porosity system allowing for preferential flow in fractures or macropores while storing water in the matrix (Simunek et al., 2003).
Root water uptake with compensation.
Spatial root distribution functions of Vrugt et al. (2001, 2002).
Soil hydraulic property models of Kosugi (1995) and Durner (1994).
Transport of viruses, colloids, and/or bacteria using an attachment/detachment model, filtration theory, and blocking functions (Schijven and Simunek, 2002; Bradford et al., 2003, 2004, 2005).
Constructed wetland module (only in 2D) (Langergraber and Simunek, 2005).
Hysteresis model of Lenhard et al. (1991) and Lenhard and Parker (1992) to eliminate pumping by keeping track of historical reversal points.
New print management (printing at regular time intervals or after constant number of time steps).
Dynamic, system-dependent boundary conditions (e.g., switching between pressure heads, seepage face, zero flux or atmospheric boundary depending on the position of the water level).
Flowing particles in two-dimensional applications.